(SR) Jotaro, Kakyoin, and Polnareff (Stardust Ring)
Jump to navigation
Jump to search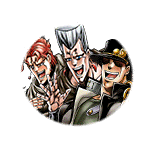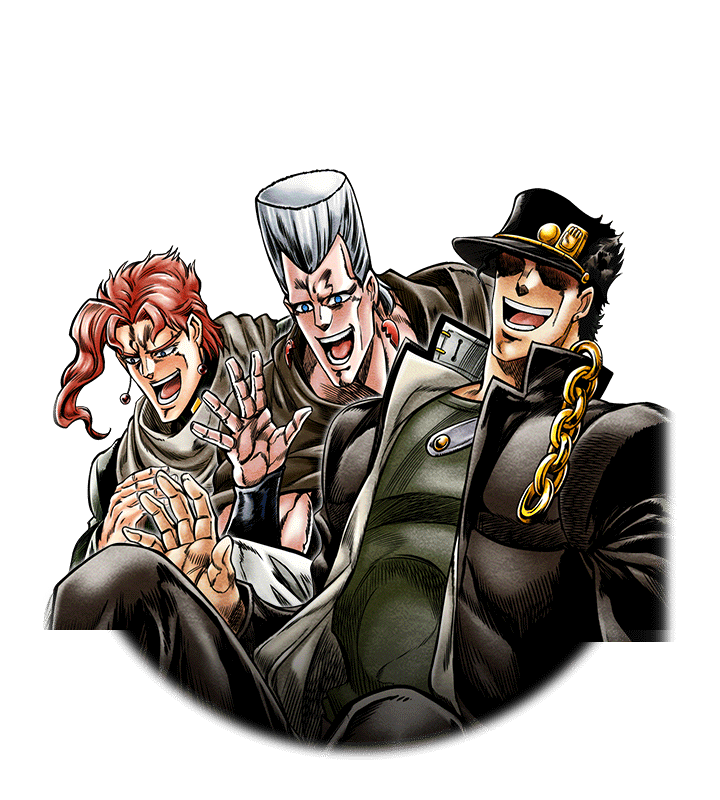 承太郎&花京院&ポルナレフ

Info
Rarity:

Jotaro Kujo
Noriaki Kakyoin
Jean Pierre Polnareff
Stand User
Attribute:

Stardust Crusaders

Stats
Attack:
2410
3310
HP:
5890
8150

---

The three of them laughed out loud when they realised the identity of the enemy that had been tormenting them.

Main Info
Abilities
Link Skill
See also: Scaling
Uhihihihihihihi
At the start of the Round for 1 turn, cuts the damage taken by all allies by 10%!
Command Skill
Wahahahahahaha
Select 1 enemy! Deal 800% damage to the target and tie it up for 1 turn!
Ability

Hehahahahafuhohoahahaha
2
Increases ATK by 400% when taking damage! (Can be stacked up to 3 times)
Break Skill

Mischief tolerance
Disable the effects of area skills Mischief
Scaling
Uhihihihihihihi

| | |
| --- | --- |
| Level 1 | At the start of the Round for 1 turn, cuts the damage taken by all allies by 10%! |
| Level 8 | At the start of the Round for 1 turns, cuts the damage taken by all allies by 17%! |
| Level 11 | At the start of the Round for 2 turns, cuts the damage taken by all allies by 21%! |
| Level 12 | At the start of the Round for 2 turns, cuts the damage taken by all allies by 22%! |
| Level 14 | At the start of the Round for 2 turns, cuts the damage taken by all allies by 24%! |
| Level 20 | At the start of the Round for 2 turns, cuts the damage taken by all allies by 30%! |
Wahahahahahaha

| | |
| --- | --- |
| Level 1 | Select 1 enemy! Deal 800% damage to the target and tie it up for 1 turn! |
| Level 20 | Select 1 enemy! Deal 7200% damage to the target and tie it up for 1 turn! |
Hehahahahafuhohoahahaha

| | |
| --- | --- |
| Level 1 | Increases ATK by 400% when taking damage! (Can be stacked up to 3 times) |
| Level 8 | Increases ATK by 989% when taking damage! (Can be stacked up to 3 times) |
| Level 15 | Increases ATK by 1579% when taking damage! (Can be stacked up to 3 times) |
| Level 18 | Increases ATK by 1832% when taking damage! (Can be stacked up to 3 times) |
| Level 20 | Increases ATK by 2000% when taking damage! (Can be stacked up to 3 times) |