(SSR) Jotaro Kujo (STAND PROUD)
Jump to navigation
Jump to search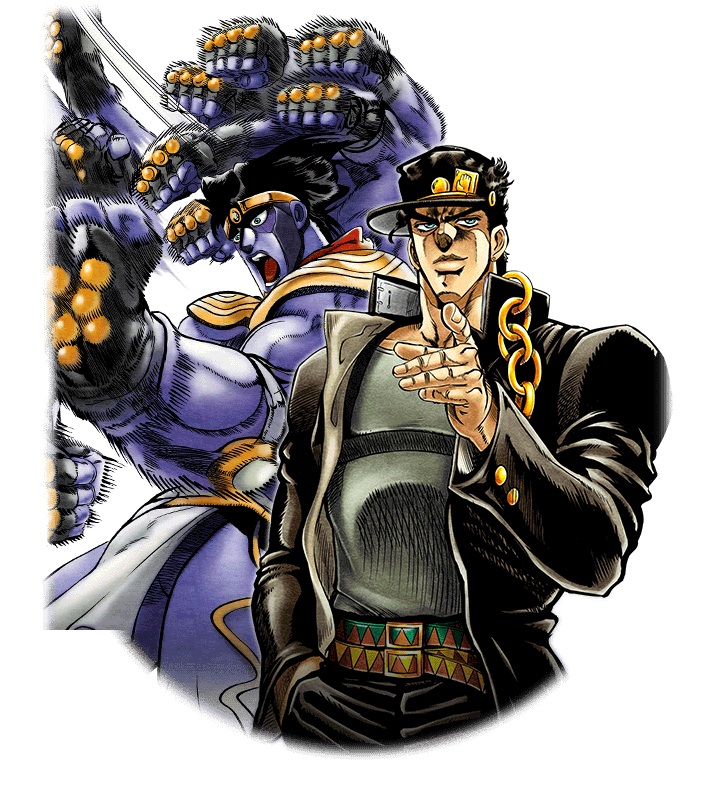 Main Info
Abilities
Leader Skill
STAND PROUD
At the start of the Round Skill Gauge filled to MAX and all parameters for Stand users +150%!
Command Skill
See also: Scaling
God speed fist
Deal 10000% damage within ange (large circle)! Furthermore, stop time and move for a certain number of seconds and deal 2000% damage to all enemies up to 20 taps while moving! At release, deal number of HITs x defense and defense skills ignoring 1000% damage!
Ability


Those who put an end to it
5
Up to 2 times in the Round, you can use your own medal with a long tap for 3 turns, increase own ATK by 5 and disable counter and Smash counter! Furthermore, the Command Skill can be activated for 0 consumption cost!
Break Skill

Pain invalid
Disable the effects of area skills Pain

Destruction
You can destroy area skills up to 1 time
Scaling
God Speed Fist

| | |
| --- | --- |
| Level 1 | Deal 10000% damage within range (large circle)! Furthermore, stop time and move for a certain number of seconds and deal 2000% damage to all enemies up to 20 taps while moving! At release, deal number of HITs x defense and defense skills ignoring 1000% damage! |
| Level 20 | Deal 500000% damage within range (large circle)! Furthermore, stop time and move for a certain number of seconds and deal 20000% damage to all enemies up to 20 taps while moving! At release, deal number of HITs x defense and defense skills ignoring 10000% damage! |
Those who put an end to it

| | |
| --- | --- |
| Level 1 | Up to 2 times in the Round, you can use your own medal with a long tap for 3 turns, increase own ATK by 5 and disable counter and Smash counter! Furthermore, the Command Skill can be activated for 0 consumption cost! |
| | |
| --- | --- |
| Level 2 | Up to 2 times in the Round, you can use your own medal with a long tap for 3 turns, increase own ATK by 5.16 and disable counter and Smash counter! Furthermore, the Command Skill can be activated for 0 consumption cost! |
| Level 3 | Up to 2 times in the Round, you can use your own medal with a long tap for 3 turns, increase own ATK by 5.32 and disable counter and Smash counter! Furthermore, the Command Skill can be activated for 0 consumption cost! |
| Level 4 | Up to 2 times in the Round, you can use your own medal with a long tap for 3 turns, increase own ATK by 5.47 and disable counter and Smash counter! Furthermore, the Command Skill can be activated for 0 consumption cost! |
| Level 5 | Up to 2 times in the Round, you can use your own medal with a long tap for 3 turns, increase own ATK by 5.63 and disable counter and Smash counter! Furthermore, the Command Skill can be activated for 0 consumption cost! |
| Level 6 | Up to 3 times in the Round, you can use your own medal with a long tap for 3 turns, increase own ATK by 5.79 and disable counter and Smash counter! Furthermore, the Command Skill can be activated for 0 consumption cost! |
| Level 7 | Up to 3 times in the Round, you can use your own medal with a long tap for 3 turns, increase own ATK by 5.95 and disable counter and Smash counter! Furthermore, the Command Skill can be activated for 0 consumption cost! |
| Level 8 | Up to 3 times in the Round, you can use your own medal with a long tap for 3 turns, increase own ATK by 6.11 and disable counter and Smash counter! Furthermore, the Command Skill can be activated for 0 consumption cost! |
| Level 9 | Up to 3 times in the Round, you can use your own medal with a long tap for 3 turns, increase own ATK by 6.26 and disable counter and Smash counter! Furthermore, the Command Skill can be activated for 0 consumption cost! |
| Level 10 | Up to 3 times in the Round, you can use your own medal with a long tap for 3 turns, increase own ATK by 6.42 and disable counter and Smash counter! Furthermore, the Command Skill can be activated for 0 consumption cost! |
| Level 11 | Up to 3 times in the Round, you can use your own medal with a long tap for 3 turns, increase own ATK by 6.58 and disable counter and Smash counter! Furthermore, the Command Skill can be activated for 0 consumption cost! |
| Level 12 | Up to 3 times in the Round, you can use your own medal with a long tap for 3 turns, increase own ATK by 6.74 and disable counter and Smash counter! Furthermore, the Command Skill can be activated for 0 consumption cost! |
| Level 13 | Up to 3 times in the Round, you can use your own medal with a long tap for 3 turns, increase own ATK by 6.89 and disable counter and Smash counter! Furthermore, the Command Skill can be activated for 0 consumption cost! |
| Level 14 | Up to 3 times in the Round, you can use your own medal with a long tap for 3 turns, increase own ATK by 7.05 and disable counter and Smash counter! Furthermore, the Command Skill can be activated for 0 consumption cost! |
| Level 15 | Up to 3 times in the Round, you can use your own medal with a long tap for 3 turns, increase own ATK by 7.21 and disable counter and Smash counter! Furthermore, the Command Skill can be activated for 0 consumption cost! |
| Level 16 | Up to 4 times in the Round, you can use your own medal with a long tap for 3 turns, increase own ATK by 7.37 and disable counter and Smash counter! Furthermore, the Command Skill can be activated for 0 consumption cost! |
| | |
| --- | --- |
| Level 20 | Up to 4 times in the Round, you can use your own medal with a long tap for 3 turns, increase own ATK by 8 and disable counter and Smash counter! Furthermore, the Command Skill can be activated for 0 consumption cost! |