(SSR) Jotaro Kujo and Koichi Hirose (Echoes ACT 3 and Star Platinum)
Jump to navigation
Jump to search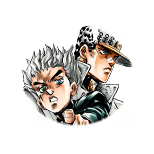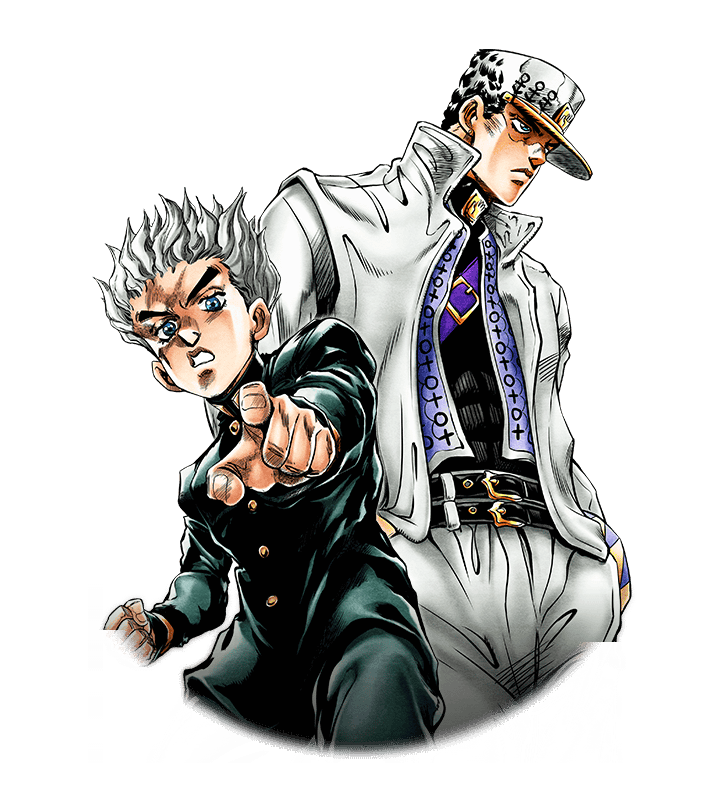 空条承太郎&広瀬康一

Info
Rarity:

Jotaro Kujo
Koichi Hirose
Stand User
Attribute:

Diamond Is Unbreakable

Stats
Attack:
HP:

---

Through the battle with Kira Yoshikage (Kosaku Kawajiri), the trust between Jotaro and Koichi grows stronger.

Main Info
Abilities
Leader Skill
"Insight" and "Observation"
Gold attributes HP+100%, ATK+100%
Command Skill
See also: Scaling
Echoes ACT 3 and Star Platinum
1: Select an enemy! Deal 800% defense-ignoring damage, lower their movement distance by 99% and increase 3 times the damage given!
2: Deal 5000% damage that ignores some defense abilities to enemies within range (large circle), add action count +2
Ability


That's your "weakness"
4
During 1more, only once the Command Skill consumption will be 0, the ATK during that turn will increase by +900%! (Can be activated up 2 times during Round)
Break Skill

Mischief invalid
Disable the effects of area skills Mischief

Destruction
You can destroy area skills up to 1 time
Scaling
Echoes ACT 3 and Star Platinum
Level 1

1: Select an enemy! Deal 800% defense-ignoring damage, lower their movement distance by 99% and increase 3 times the damage given!
2: Deal 5000% damage that ignores some defense abilities to enemies within range (large circle), add action count +2

Level 20

1: Select an enemy! Deal 98000% defense-ignoring damage, lower their movement distance by 99% and increase 3 times the damage given!
2: Deal 230000% damage that ignores some defense abilities to enemies within range (large circle), add action count +2
That's your "weakness"

| | |
| --- | --- |
| Level 1 | During 1more, only once the Command Skill consumption will be 0, the ATK during that turn will increase by +900%! (Can be activated up 2 times during Round) |
| Level 2 | During 1more, only once the Command Skill consumption will be 0, the ATK during that turn will increase by +921%! (Can be activated up 2 times during Round) |
| Level 3 | During 1more, only once the Command Skill consumption will be 0, the ATK during that turn will increase by +942%! (Can be activated up 2 times during Round) |
| Level 4 | During 1more, only once the Command Skill consumption will be 0, the ATK during that turn will increase by +963%! (Can be activated up 2 times during Round) |
| Level 5 | During 1more, only once the Command Skill consumption will be 0, the ATK during that turn will increase by +984%! (Can be activated up 3 times during Round) |
| Level 9 | During 1more, only once the Command Skill consumption will be 0, the ATK during that turn will increase by +1068%! (Can be activated up 3 times during Round) |
| Level 20 | During 1more, only once the Command Skill consumption will be 0, the ATK during that turn will increase by +1300%! (Can be activated up 5 times during Round) |