(SSR) Noriaki Kakyoin (Custom Campaign)
Jump to navigation
Jump to search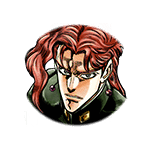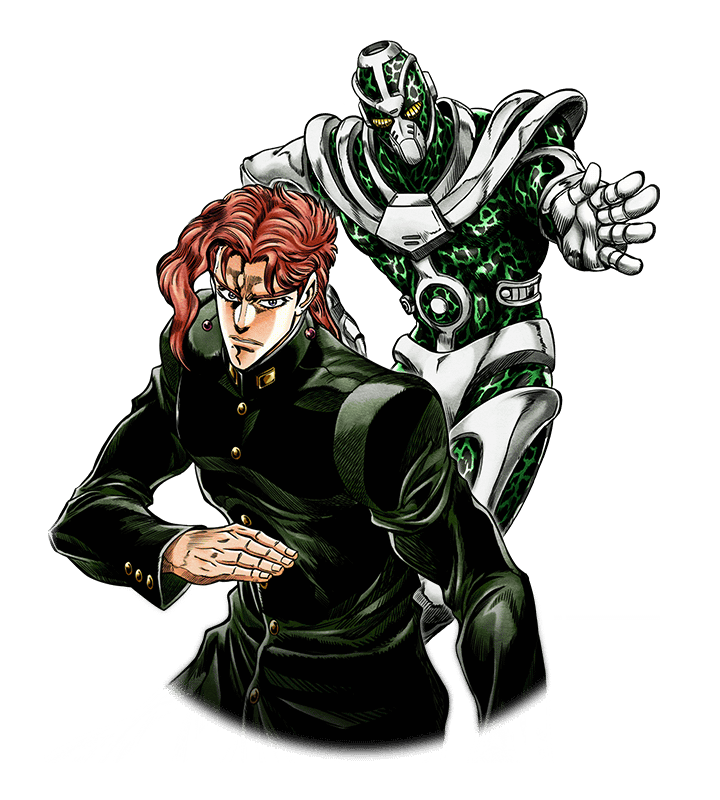 Main Info
Abilities
Leader Skill
See also: Scaling
That's not what you should say in this situation
Green attributes and Stand users ATK+50, HP+80%
Command Skill
Dont let him get to you!
Deal 800% damage within range (diamond type)! For 2 more turns, The defense becomes "0" and the damage is treated weakness attribute!
Ability


This gold coin will go to whoever picks it up first!
5
When appearing on the field place one gold coin! For 1 turn, the gold coin become the enemy's target and when they come into contact, reduce their defense by 20% for 1 turn and stop their movement!
Break Skill
This unit can have any Break Skill (except Destruction)*
Scaling
That's not what you should say in this situation

| | |
| --- | --- |
| Level 1 | Green attributes and Stand users ATK+10, HP+30% |
| | |
| --- | --- |
| Level 3 | Green attributes and Stand users ATK+14, HP+35% |
| Level 4 | Green attributes and Stand users ATK+16, HP+38% |
| Level 8 | Green attributes and Stand users ATK+21, HP+43% |
| Level 7 | Green attributes and Stand users ATK+23, HP+46% |
| Level 8 | Green attributes and Stand users ATK+25, HP+48% |
| Level 9 | Green attributes and Stand users ATK+27, HP+51% |
| Level 10 | Green attributes and Stand users ATK+29, HP+54% |
| Level 11 | Green attributes and Stand users ATK+31, HP+56% |
| Level 13 | Green attributes and Stand users ATK+35, HP+62% |
| Level 14 | Green attributes and Stand users ATK+37, HP+64% |
| Level 15 | Green attributes and Stand users ATK+39, HP+67% |
| Level 16 | Green attributes and Stand users ATK+42, HP+69% |
| Level 17 | Green attributes and Stand users ATK+44, HP+72% |
| Level 18 | Green attributes and Stand users ATK+46, HP+75% |
| Level 19 | Green attributes and Stand users ATK+48, HP+77% |
| | |
| --- | --- |
| Level 20 | Green attributes and Stand users ATK+50, HP+80% |
Dont let him get to you!

| | |
| --- | --- |
| Level 1 | Deal 800% damage within range (diamond type)! For 2 more turns, The defense becomes "0" and the damage is treated weakness attribute! |
| Level 20 | Deal 80000% damage within range (diamond type)! For 2 more turns, The defense becomes "0" and the damage is treated weakness attribute! |
This gold coin will go to whoever picks it up first!

| | |
| --- | --- |
| Level 1 | When appearing on the field place one gold coin! For 1 turn, the gold coin become the enemy's target and when they come into contact, reduce their defense by 20% for 1 turn and stop their movement! |
| | |
| --- | --- |
| Level 2 | When appearing on the field place one gold coin! For 1 turn, the gold coin become the enemy's target and when they come into contact, reduce their defense by 24% for 1 turn and stop their movement! |
| Level 4 | When appearing on the field place one gold coin! For 1 turn, the gold coin become the enemy's target and when they come into contact, reduce their defense by 33% for 1 turn and stop their movement! |
| Level 6 | When appearing on the field place one gold coin! For 1 turn, the gold coin become the enemy's target and when they come into contact, reduce their defense by 41% for 1 turn and stop their movement! |
| Level 7 | When appearing on the field place one gold coin! For 1 turn, the gold coin become the enemy's target and when they come into contact, reduce their defense by 45% for 1 turn and stop their movement! |
| Level 8 | When appearing on the field place one gold coin! For 1 turn, the gold coin become the enemy's target and when they come into contact, reduce their defense by 49% for 1 turn and stop their movement! |
| Level 10 | When appearing on the field place one gold coin! For 1 turn, the gold coin become the enemy's target and when they come into contact, reduce their defense by 58% for 1 turn and stop their movement! |
| Level 11 | When appearing on the field place one gold coin! For 2 turns, the gold coin become the enemy's target and when they come into contact, reduce their defense by 62% for 1 turn and stop their movement! |
| Level 14 | When appearing on the field place one gold coin! For 2 turns, the gold coin become the enemy's target and when they come into contact, reduce their defense by 75% for 1 turn and stop their movement! |
| Level 13 | When appearing on the field place one gold coin! For 2 turns, the gold coin become the enemy's target and when they come into contact, reduce their defense by 71% for 1 turn and stop their movement! |
| Level 15 | When appearing on the field place one gold coin! For 2 turns, the gold coin become the enemy's target and when they come into contact, reduce their defense by 79% for 1 turn and stop their movement! |
| Level 16 | When appearing on the field place one gold coin! For 2 turns, the gold coin become the enemy's target and when they come into contact, reduce their defense by 83% for 1 turn and stop their movement! |
| Level 17 | When appearing on the field place one gold coin! For 2 turns, the gold coin become the enemy's target and when they come into contact, reduce their defense by 87% for 1 turn and stop their movement! |
| Level 18 | When appearing on the field place one gold coin! For 2 turns, the gold coin become the enemy's target and when they come into contact, reduce their defense by 92% for 1 turn and stop their movement! |
| Level 19 | When appearing on the field place one gold coin! For 2 turns, the gold coin become the enemy's target and when they come into contact, reduce their defense by 96% for 1 turn and stop their movement! |
| | |
| --- | --- |
| Level 20 | When appearing on the field place one gold coin! For 2 turns, the gold coin become the enemy's target and when they come into contact, reduce their defense by 100% for 1 turn and stop their movement! |