Events
Jump to navigation
Jump to search
Events are one of the best ways in the game to get ahold of a multitude of resources, including Diamonds, characters, awakening items, Stardust Rings and many more. However, there are also a multitude of different types of events. The information below will detail the different kinds of SP events, and the stores that come with them.
In almost all events, you can get more points using the units with the P++ and P+ badges and using friends and comrades instead guests.

P++ will give you 20 extra SP points while P+ only 10.
Contents of the page: ExpandCollapse
SP stores are typically the most common type of shop you'll encounter in the game. They offer a variety of resources for the player to purchase using SP they can gain from farming quests and/or tickets. The best quest to farm during these events are the campaign missions and campaign tickets (if any are available to drop) that tie into the event. The following items that you can buy in the store include:
SSR Mask Frogs, recent event and login bonus units, commemorative units, Titles, Diamonds (typically 15), Stardust Ring units, Frogs, awakening materials, metal parts, books, Gold, and 1000 Stardust Rings.
There are also certain instances of event stores that tie into something called Event Gacha Uno, where you'll be able to get pull tickets that allow you to attain some older login units and an SSR Mask frog, but it's only one attribute per one Event Gacha. During these times, the tickets will be purchasable in bulk.
A VS Event is a community event where everyone farms SP to deplete a BOSS's HP to 0 to get rewards. There are community and personal milestones during this event. As the name suggests, community milestones are met by using every player's total SP while personal milestones are met using each individual players total SP. Some of the rewards distributed in this event include: The VS Event unit plus a couple dupes, Diamonds (usually around 10 or less), awakening materials, books, and Stardust Rings. Like most events, the best quest to farm is the campaign mission (typically has the same image as the BOSS) to farm SP efficiently, it'd also be favorable to make use of your P++/P+ units to get extra SP at the end of each quest.
Some of the units that were available via a VS campaign were: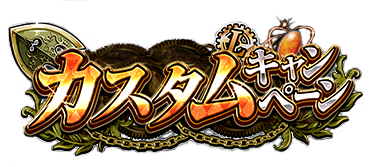 The Custom Campaign (カスタムキャンペーン) is an event that features a custom unit. During this event, you can can change the stats (Break Skills, changing to a Link Skill, and increasing unit parameters) of the unit. By using energy, you can extend the ATK, HP, movement, range, and ability capacity. You can also change the weight and size of the medal. Furthermore, you can change to a Link Skill or the Break Skills acquired by SP (Stardust Point).
This sort of event offers two different SP progression routes, the usual SP store, although with a reduced selection of goods, and the SP milestone route, where when you reach a certain amount of overall SP, you'll be able to claim certain rewards.
The SP store for these sorts of events will offer a smaller variety of goods than usual, but also goods that you won't find in normal SP stores, all revolving around customising your unit. The following items can be found in a custom event SP Store:
Newest Custom SSR Dupes, Awakening Arrows, Stardust(Custom unit improvement material), Buyable Link Skill for the unit, Diamonds, SSR and SR Frogs, Sendo Frogs, some awakening materials, 100 Stardust Rings, and a collection of gold to buy.
It's also possible to buy break skills from this store, to allow you to customise your custom unit to the maximum potential, and give them whatever break skill you want, aside from Destruction.
Custom Event SP Milestone Progression
[
edit
|
edit source
]
The Milestone progression route will offer you pretty much the same goods, with a few changes. You'll still gain Frogs, Stardust, Diamonds, and a couple dupes of the unit, but you can also earn other things here such as Titles that tie into the event.
It's also possible to attain another awakening arrow from the milestone rewards, so if you're going to want the most out of a custom event you'll have to ensure to complete the Milestone rewards, although given the nature of custom events, it's quite easy to complete the milestone long before attaining max Ability and Link Skill levels.
The Milestone rewards also have a reward that tracks how much additional SP you gain past the highest reward, where you'll gain an extra material per a set amount of SP earned (usually 100 or 200), which can be a nice way to get a large stock of whatever material it is at the time.
To customise a unit you use a material called Stardust. With this, you can increase it's ATK, HP, Weight, Medal Size, and much more. As mentioned above you can also customise its break skills to be whichever you choose aside from Destruction, as well as apply the Link Skill that you can buy for the units.
When the units have been improved 20 times with the stardust, you'll then need to break the limit on the upgraded area with an arrow, and then you'll be able to upgrade it another twenty times.
The unit will be completely customisable until the end of the event, but when the event ends you'll unfortunately lose the ability to customise it further, as well as become unable to achieve further copies of the unit.
A quiz event is a unique sort of event that come around once every few months in Stardust Shooters. They offer the same type of SP store as the regular SP events, where you can buy a title, characters, diamonds, awakening materials and much more, but because of the nature of the event it's a lot easier to attain a large amount of SP to buy the resources that you so desire.
Quiz events come with two missions, one that will play for the duration of the event, and the other that plays once a day for the duration of the event. The one that plays for each day is the main one you'll be farming, as this will be your method of acquiring the quiz tickets for the event, that you answer to gain a lot of SP. The once per day mission is also important to do, as completing this mission will allow you to gain access to a special quiz ticket, that will in turn allow you to earn more SP.
The actual tickets don't play as proper missions, and instead play like their names entail, you'll be answering questions regarding the Jojo anime and manga. When opening the ticket on your mission menu you'll be greeted with three different choices, and the question name will appear on the top of the screen. You have to work out the correct answer to what's being asked, and then click the correct answer on the screen to go through to an incredibly easy mission, that will grant a lot of SP.
Failing the ticket however results in an incredibly hard mission, where the game will put you against something that can be near impossible to beat for some players, and even for those who can beat it, the SP rewarded for doing so is incredibly minimal.[1]
Selection, is an event that happens very rarely in the game, where a vote takes place featuring fifteen different units from the past that players can vote for with s-counters. Limited Selections normally take place during game anniversary periods, however there are some instances where this is not the case.
To attain S-Counters, there'll be a tie in mission that's released alongside the Selection event, where enemies in the mission drop the counters. Once you've gotten the S-Counters as drops, you can go to the Event page, and from here vote for the unit of your choosing!
Once voting is completed, the top eight will all become the featured units on the Jojo Selection banner later down the line, when the banner becomes available. The unit that came in first, will be guaranteed on your first multi, and will be sent to your mailbox.
However, all units that are votable during selection will also be available on the banner, but if they didn't come in top eight, then they'll have lower rates.
Lastly, more often than not one unit that is present on the Limited Selection voting, will receive a buff.
There's also two other types of selection these are a frog selection, and a unit buff selection.
The frog selection works as the name implies, instead of voting for units, you'll be voting for frog units, mainly SSR Mask frogs, and the winner of that will be distributed for free during a certain period.
The unit buffs selection is simply a vote of a chosen selection of units, and those who come in top three will all receive various buffs.
Below is a list of the previous winners of Limited Selection voting. All of the previous winners have been Limited units, as this is your best and only chance besides Speedwagon Wealth Festivals to get old Limited Units. However, the first Winner, Shigechi came at a time where there was only two Limited units available, and Shigechi was one of the most powerful units at the time, which resulted in the majority of the player base voting for him.
↑ Because of this, it's essential to ensure that you're getting the right answers every time for the quiz, to maximise your SP gain. If you're unable to read Japanese, don't understand how to use a translation app, or just don't have a good knowledge of the JoJo anime or manga, then all answers to these quiz tickets are posted in the Stardust Shooters Discord whenever a quiz event like this is run.