(SSR) Noriaki Kakyoin and Joseph Joestar (Polar Star)
Jump to navigation
Jump to search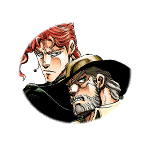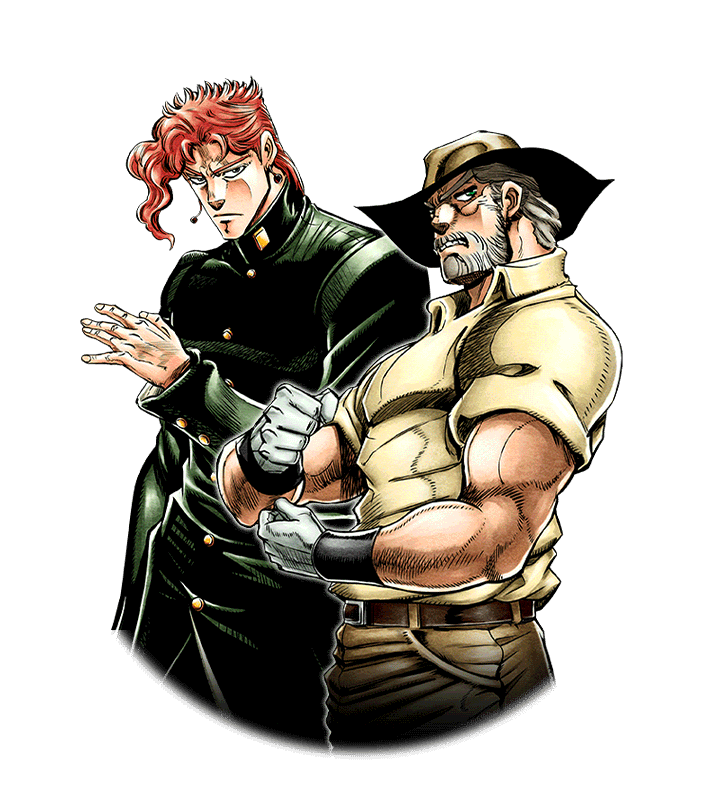 花京院典明&ジョセフ・ジョースター

Info
Rarity:

Noriaki Kakyoin
Joseph Joestar
Stand User
Attribute:

Stardust Crusaders

Stats
Attack:
2990
HP:
6430

---

The intelligent Kakyoin, and the older Joseph. They understand each other very well.

Main Info
Abilities
Link Skill
See also: Scaling
We'll make quick work of you, then move on!
At the start of the Round add +1 to all enemy action counts, Green attributes ATK+30%, movement distance +30%, Smash range +10%
Command Skill
Hermit Purple and Emerald Splash
Disable wall skills and counters, gain movement distance +150%, and move through enemy items! Tap to deal 800% weak-point hit damage to all enemies!
Ability


I bet my "Soul"!
1
Movement distance +700% and Smash range +150% up!
Break Skill

Madness invalid
Disable the effects of area skills Madness

Mischief tolerance
Disable the effects of area skills Mischief
Scaling
We'll make quick work of you, then move on!

| | |
| --- | --- |
| Level 1 | At the start of the Round add +1 to all enemy action counts, Green attributes ATK+30%, movement distance +30%, Smash range +10% |
| Level 5 | At the start of the Round add +1 to all enemy action counts, Green attributes ATK+41%, movement distance +41%, Smash range +14% |
| Level 10 | At the start of the Round add +1 to all enemy action counts, Green attributes ATK+54%, movement distance +54%, Smash range +19% |
| Level 15 | At the start of the Round add +2 to all enemy action counts, Green attributes ATK+67%, movement distance +67%, Smash range +25% |
| Level 20 | At the start of the Round add +2 to all enemy action counts, Green attributes ATK+80%, movement distance +80%, Smash range +30% |
Hermit Purple and Emerald Splash

| | |
| --- | --- |
| Level 1 | Disable wall skills and counters, gain movement distance +150%, and move through enemy items! Tap to deal 800% weak-point hit damage to all enemies! |
I bet my "Soul"!

| | |
| --- | --- |
| Level 1 | Movement distance +700% and Smash range +150% up! |